| | | |
| --- | --- | --- |
| | Lumber Camps in the Curtisville Area | |
| | Material & photos submitted by Ronald J. Sortor, 1997. | |

I would like to express my appreciation to Arbutus (Bell) Milholin, Charles Curtis and Harry McMillen for their assistance in identifying the locations of these lumber camps and identifying some of the residents that worked in the camps. R.J. Sortor

---

The lumber industry expanded with our nation. It moved from the New England states to the western part of New York and Pennsylvania and then into the Great Lake states. During the latter part of the 19th century, Michigan was a leading lumbering state.
The first trees to be felled were white pines. As they were exhausted, lumbermen turned to the hardwoods. Thousands of acres of bleak cut over land long remained as a monument to the greedy timbering policy that prevailed.

JAMES BARNES' SQUARING MILL
James Barnes had a squaring mill in the late 1800's or early 1900's as he built a two story house on the property in 1902. This mill was located on the farm located on the southeat corner of Curtisville and Bamfield Roads. Currently the home of Dominic and Dorothy (Byler) Prosperi.

NOTE: Dorothy's father, William Byler, was the minister of Curtisville Baptist Church from 1922-1941.


James & Mary Ann Barnes

BIG DAN'S LUMBER CAMP
On Route 604, just before you get to Route 4001, in the flat area is a road that goes south a short distance and ends at a swamp. This was the site of Big Dan's Lumber Camp. A good sized camp but smaller than Gates. There is also a road named Big Dan's Logging Road. (*1)

HUGH CURLEY'S LUMBER CAMP
Hugh Curley had a small operation at Dead Man's Landing on the AuSable River. His elderly mother did the cooking assisted by a grandaughter of Henry and Degretta Curley. Alvin Redmond was a young boy about twelve but drove a team. Clare Redmond his brother sent the winter at John and Rosie Redmonds so he could attend school. Mr. Curley cut cedar logs which were sold to one of the big lumber companies.
NOTE: Dead Man's Landing has a bit of history. A black family named Davis had homesteaded 160 acres near McKinley. Tradition tells that Jimmy Davis, a son was working as a cook's assistant on a Wonigan during a log drive. Some drunken lumber jacks made Jimmy dance for them on the back deck. Jimmy fell into the river, filled with logs and disappeared. His body was never recovered.
The rest of the Davis family are buried in the old Comins Cemetery near Comins Flats. So if you are canoing the AuSable some moonlight night near Dead Man's Landing and you hear singing - "Swing Low Sweet Chariot" - don't worry - it is just the ghost of Jimmy Davis. (*2) (*3)

GATES LUMBER CAMP
The biggest operation was Gates Camp at the end of Bamfield Road. Gates also had a large operation in Bay City. They built a railroad into the camp to transport timber to Bay City. This was a spur connecting with the Detroit, Bay City & Alpena Railroad stations at Hunt (now known as South Branch).
--Gates Lumber Camp-1910-Manley Bell installing chains on a load of logs.


--Cookhouse at Gates Camp,
Peter Emily, Camp Cook, wearing apron.
Many men were employed. Peter Emily was employed as the camp cook. Members of the Ellis family were also employed at the camp.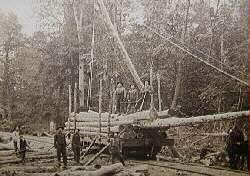 Jammer loading cedar logs at Gates Lumber Camp.
Alexander Gordon was Superintendent until his death of a heart attach in 1906. His brother Gordon replaced him as Superintendent and continued in that capacity until 1909. Manley Bell was a foreman at Gates Camp in 1909. Enos Warner was employed as a teamster at Gates Camp in 1909. Wesley Redmond was employed at Gates Mill. Jim McMillen was a foreman in the Fall of 1914 and Spring of 1915. Warren Curley worked at Gates Mill in Bay City.
The camp had its own store and school. Jessie Heilig, a local girl, taught at the school.


GREEN'S LUMBER CAMP
Green's had a lumber camp in Section 12, T. 25 N., - R. 4 E., Mentor Township, Oscoda County. It was located behind the ridge that many know as Greens Hill that runs west from Curtisville Road. This camp was in operation around 1901. A railroad spur connected this camp with the Detroit, Bay City & Alpena Railroad station at Hunt (South Branch).

ROBINSON'S MILL

Robinson's Logging Camp -- January 15, 1910.

Robinson's Mill was located at the intersection of Taber Road and Mack Lake Trail west of South Branch. Curtisville residents Kenneth Bell and Donald La Fleur worked as teamsters at Robinson's Mill.


JULE SIMONS MILL
Jule Simons was the first to own a saw mill. It was a small portable mill located on the top of what is known as "Bamfield Hill." He cut logs for pioneers to use in building their homes.

CALEB SMITH LUMBER CAMP
We know that Caleb Smith had a small camp on the creek that beares his name. This was possibly the earliest lumber camp in the Curtisville area. It was located along Smith Creek in Section 29, T. 25 N. - R. t E., Curtis Township, on the east side of Brodie Road. Ebenezer Curtis was operating this mill at the time of his son Richard's birth on Dec 11, 1868. Richard was the first white child born in Curtis Township.

WHITE'S LUMBER CAMP
White's Lumber Camp was located west of Green's CLumber Camp in Mentor Township, Oscoda County. this camp was in operation around 1910.


FOOTNOTES
*1 Rathbone III, Fran and "D", "George Russell's McKinley, " Wilderness Chronicle, Issue 231, Comins, MI: Spring, Summer 1991, p. 42
*2 Moore, Rose Lockwood, "The George Davis Family, Oscoda County's Black Homesteaders," Wilderness Chronicle, Issue 15, Comins, MI: Sping 1988, p. 13
*3. Foley Jr., Bill, "AuSable river Pioneer Genealogy," Wilderness Chronicle, Issue 13, Comins, MI: Fall 1987, p. 29
---
There have been-- --visitors to this page since April 1, 1999 (Counter Reset).
Back to the main Alcona Page
Page copyrighted1997 by Norman M. Vance.

Member:


Top Rated Site


---