Glennie
United Methodist
ChurchHistory

Historical Highlights

Charter Members

Ministerial History
*** History of the Church ***
The Glennie Methodist Church was organized on December 25, 1903 under the leadership of Rev. W. F. Gawn. There were seventeen charter members. Mr. C. E. Schoolcraft served as Sunday School Superintendent. Mr. Schoolcraft also drew the plans for the building patterning it after the Asbury Methodist Church in Traverse City, Michigan. The Corner Stone of the Church was laid in 1905, and the building was dedicated on December 5, 1907. The two rooms were heated by wood stoves until 1923 when a basement was built in back to the church and the building moved onto it.
Soon after the church was built a parsonage was added to provide for the minister's family. In the winter of 1914 it burned and was rebuilt. The second parsonage to house the ministers and their families until 1969 when the present parsonage was built. It was financed partially with funds received through the will of a former member, contributions of present members and friends, and the hard work of faithful men working under the guidance of a local contractor.
Many gifts have been given to the Church over the years in memory of loved ones passed on, and just gifts of love for the church.
Twenty-seven ministers have brought the hope which is in Jesus Christ to the people during the seventy-five years existence of this church. From this church two fine ministers were given to the Detroit Conference - Rev. John Dingle and Rev. L. F. Merrill, both of whom were inspired to preach by the faithful ministery of Rev. C . S. Brown. For 7 years Glennie was a combined charge with Harrisville. Since 1947 the Glennie and Curran Churches have continued to work together under the leadership of one Pastor.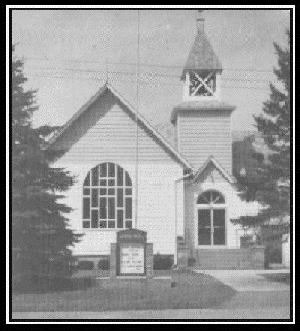 * * *
Charter Members of the Glennie United Methodist Church
Dr. Joseph Ablett

Mrs. Emma Ablett

Miss Mary E. Ablett

Miss Lilly M. Ablett

William W. Ablett

Mr. Cyrus Bickle

Mrs. Cyrus Bickle

Walter Bickle

Mr. William Hoyer

Mr. Joseph LaFleur

Mr. Samuel Lilley

Mrs. Samuel Lilley

Mr. Cary Rose

Mrs. Cary Rose

Mr. C. E. Schoolcraft

Mrs. C. E. Schoolcraft

Mr. Julius Simons


---

---

Pastors Who Served The Glennie United Methodist Church

Rev. W. F. Gawn 1903-1904
Rev. John Blackwell 1904-1905
Mr. C. E. Schoolcraft 1905-1906 (Lay speaker)
Mr. A. F. Brown 1906-1907 (Lay speaker)
Rev. Fred Brown 1907-1908
Rev. George H. Smith 1908-1910
Rev. G. W. Scott 1910-1911
Rev. W. A. Thomas 1911-1915
Rev. Elbridge Gordon 1915-1916
Rev. C. S. Brown 1916-1944
Rev. A. J. Dibden 1944-1945
Rev. Bertram McNally 1945-1946
Rev. Bertha Filmore 1946-1947
Rev. Carl O. Joy 1947-1949

Rev. George W. Burlew 1949-1953
Rev. Helen L. Royce 1953-1956
Rev. Emil Mai 1956-1959
Rev. Everett E. Cole 1959-1960
Rev. Basel Curtiss 1960-1965
Rev. Donald Daws 1965-1971
Rev. James Gerzetich 1971-1974
Rev. Byron Coleman 1974-1979
Rev. Norman Horton 1979-1983
Rev. Priscilla Seward 1983-1985
Rev. Margaret A. Paige 1985-1986
Rev.'s James E.& Margaret A. Paige 1986-1991
Rev. George H. Morse 1991---


---

---

Used with the permission of Rev. George H. Morse.
Above material contributed by Ronald J. Sortor, 1997.

---

Last updated 2014

Copyrighted1997 by Norman M. Vance


Member:



Top Rated Site


---

Please send email for comments
or if any links do not work for you...thank you. Norm Vance

---

---

The information on these pages is meant for personal genealogical research only and is not intended for commercial use of any type.

---